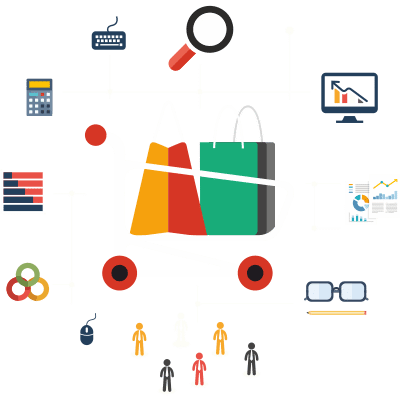 Mystery Shopping
Get to know your customers, your staff at stores, your competition and everything that matters at retail.
Mystery Shopping

Retail Operations Audits

Stock Audits

E-commerce Seller Audits

Market Research

Our mission is not to just provide a superior measurement tool but also to infuse that data into your culture and unlock your company's potential for driving customer delight and limitless profitability.
Results don''t happen by accident. Companies that create consistently exceptional customer experiences do not succeed because they always hire better employees or offer better products at lower prices; they succeed because they build carefully aligned systems that everyone in the organization uses to measure,manage and improve the customer experience.
When aligned properly with other measurement and management tools, mystery shop results can reliably predict customer satisfaction and future sales. A mystery shopping program managed by TopHawk will help your company focus and improve on the specific behaviors that will create customer delight and positively impact sales and profitability.
The TopHawk Advantage
TopHawk made significant contributions to legitimizing mystery shopping as a powerful research tool, and we pride ourselves on continually leading and changing the landscape of our industry. We understand operations, technology, and research, and we know what it takes to manage a phenomenally successful program. The TopHawk advantage includes:
• Vast geographical coverage. We have shoppers and auditors in the locations you want shopped. TopHawk conducts tens of thousands of shops each month with mystery shoppers in more than 200 cities and towns in the Pan India region.
• Top quality with 100 percent completion rate. Many companies claim a completion rate of 100 percent, but at TopHawk, we never break our promises. Our promised completion rate is 100 percent — no exceptions, no excuses. On top of that, the quality and accuracy of our mystery shop results are the best in the industry. (See the details around our Quality Assurance Processes)
• Superior survey format. The structure of TopHawk's mystery shops is based on our proprietary survey format, a dramatic departure from traditional methods of collecting mystery shopper research data. Instead of asking a series of generic and potentially subjective questions, a TopHawk behaviors-based shop enables our clients to pinpoint the very attributes and behaviors proven to drive customer delight, effective selling techniques and other critical performance attributes.
• Extensive mystery shopper training. Before our mystery shoppers visit your locations or call your employees posing as customers, they will be trained, tested and certified on your specific program. Our shoppers will know exactly what to look and listen for, and we will ensure that all of your employees and locations are evaluated objectively, consistently and accurately.
• Direct one-on-one management of shoppers. Many companies sub-contract the shop scheduling process and even the quality editing process to businesses that offer mystery shop support services. TopHawk never uses sub-contractors. Our dedicated staff of in-house schedulers and editors speak one-on-one with our shoppers every day; this ensures that the shoppers fully understand specific requirements and receive continual coaching and recognition to better produce actionable feedback for you.
• Highly engaged, top-performing mystery shoppers. We understand that our mystery shoppers are also our clients and very valuable to our company. Our mystery shoppers feel like they are a part of our corporate culture. Through consistent direct contact, we instill in them a high level of personal accountability and pride that their feedback is important.
A TopHawk program enables our clients to:
• Understand exactly what customer delight-driving behaviors look and sound like
• Align company-wide focus on improving the customers' experiences, resulting in higher sales through an increased number of customer visits
• Discover if customers are receiving consistently superior customer service at every location and customer touchpoint
• Identify gaps in training
• Improve suggestive selling and provide customers the information they want, resulting in an increased number of items purchased per customer visit
• Ensure compliance with legal requirements to maintain a positive brand image and avoid legal issues
• And much, much more…
No matter what your objectives, we will partner with you to develop a program that will provide actionable results using state-of-the-art technologies and proven mystery shop methodologies.