BRAND ACTIVATION
Experiential Marketing | Mall Activations | Corporate Activation | Product Sampling | In-store Activations
Are you looking for Brand Activation services?
TALK TO US!
+91 9810299632
What is brand activation?
In this highly competitive world we live in, a brand cannot just provide excellent products or services.
It doesn't matter if you have a superior product or service to offer until and unless you build your brand enough to ring bells in customers' minds.
Building your brand requires developing a strong connection with customers.
Letting them know everything about your company and product is the key. That's where brand activation comes into play.
Brand activation focuses on making your brand the face of a particular product.
For example, if you wish to eat chips, you will picture 'LAYS' in your mind. That's what effective brand activation does.
'LAYS' have become a representation of chips. Brand activation has so intertwined the two that they can't be considered two separate entities. Brand activation can help you ace the competition, leaving your competitors behind.
Brand Activation is a process of spreading brand awareness amongst your target consumers, through engagements and experiences.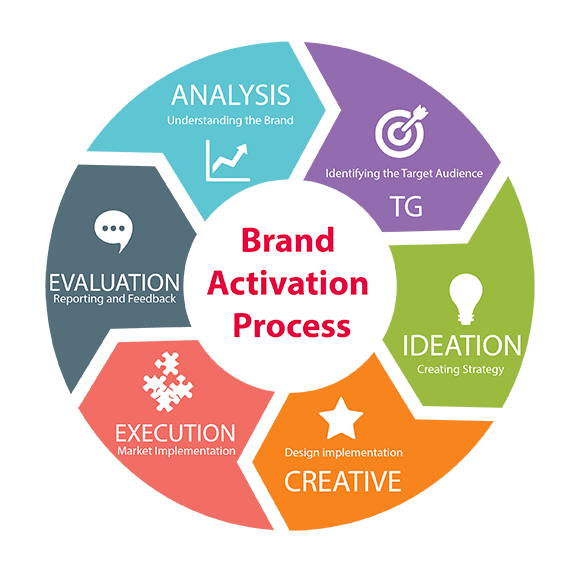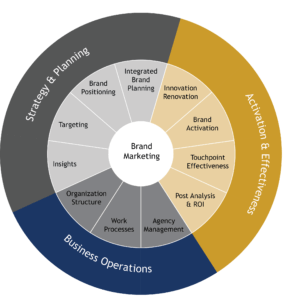 Brand activation steps
A robust brand activation strategy needs to be comprehensive in the ideation, analysis, and execution phases.
The steps to a thorough process are:
Identifying the Target Audience
It's imperative to zero in on the segment of consumers who are highly likely to buy the product.
This requires careful profiling and segmentation of target customers.
Ideation phase
Creating a strategy to connect the brand with the values it wants to be associated with. For example, McDonald's, a food-related brand, is majorly associated with youth and will adopt activation methods to target the young population and execute youthful promotional campaigns.
Design and Implementation
Keeping the strategy in mind, activation kits will be fragmented. As with McDonald's campaign, red and yellow colours would entice consumers.
Execution
Proper implementation strategies are put in place with defined timelines, roles, and responsibilities, and beat plans are chalked out for efficient execution.
Evaluation
The analysis of feedback captured during events shapes the next campaigns for improved ROI.
What is Brand Activation?
Brand activation is a process of spreading brand awareness among your target consumers, through engagements and experiences.

Now, let's say you have produced a top-quality product and are raring to hit the market, but there is no buzzword.
No one knows about your product and it's virtually dead in consumer demand.

You need activation techniques to create buzz and create brand recall and value.
Prominent Activation Techniques
Experiential Marketing
Mall Activations
Corporate Activations
RWA Activations
Product Samplings
What is a brand activation agency?
Brand activation companies are experts at brand activation. They design, manage, and produce the strategies you need to form long-lasting and deeper connections with your audience. They can make a huge difference as they have the expertise and resources you might not have to activate your brand. But hiring an effective brand activation agency is a task in itself, and you should select the best one. Even after hiring the agency, you need to keep checking to see if everything is being worked on as per your expectations or not.
What to look for in a brand activation agency?
Communication: You must find out if the agency communicates transparently. A competent branding agency welcomes your questions and concerns. Communication becomes effective when a fine balance is maintained between talking and listening. If the agency is adept at both, you should only consider it as an option. You need to remember if the agency has quick, reliable, and effective communication skills or not.

Reliability: Stay alert and avoid agencies that are "All show and no go". Ensure that the agency is reliable and trustworthy. Every small detail must be taken care of like

Whether the employees of the agency are punctual.

Does the agency fulfil its promises? Etc.

Client List: Checking through an agency's client list will help you analyze its field experience. You can ask for reviews, testimonials, and case studies from their past clients. If they can't give you any, this will be an alarming sign that they lack experience and expertise. You can also ask about their longest-term clients, etc. Further, if they give you the names of some of their clients, you may contact them and find out how their experience with the agency was. Only after reading other clients' experiences should you hire a particular agency for activating your brand.

The record of results: The prime motive behind hiring the agency is to achieve successful results.

If the agency doesn't produce effective results, there's no point in hiring it. Check if the agency has the experience to meet your requirements.
Get in Touch
We are here for you, and we are wearing our thinking caps