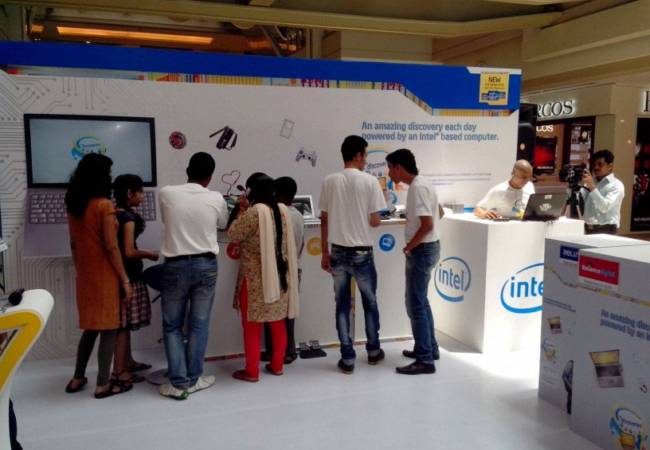 Retail Visual Merchandising
Visual merchandising or retail visual merchandising display is an emerging selling technique that keeps the role of the employee and generates more returns, thereby helping in reduced marketing budget. It is an effective way of developing floor plans in accordance to the brand requirements and giving a different dimension to the 3D stall design and adding the same effect to visual merchandising. We are one of the top retail merchandising companies in India having worked for more than 80 companies for their visual merchandising needs. We help in raising the customer engagements and thereby maximising the sales.
In retail visual merchandising, the brand and your product that are displayed are done in such a way that effectively attracts consumers from the focused markets. All-in-all, visual merchandising also helps in drawing in maximum customers by facilitating customer engagements and bringing you product's best features and benefits. Some of the appealing visual merchandising ideas include retail visual merchandising, visual merchandising window display and VM kits that help you communicate your brand to the target audience.
Why Choose Tophawks visual merchandising?
Backlit branding
One of the retail visual merchandising ideas is to skilfully use the backlit branding for your visual merchandising display. These kits with backlit branding help your brands emerge from other products, thereby making your brand shine.
Creative design possibilities
With an array of creative design possibilities, visual merchandising display makes your promotional activities successful. You can get a range of visual merchandising ideas that involves creative designs, guaranteeing a new look to your display every time you have a brand promotion.
Reusable activation kits
One of the best features of the Visual merchandising Kits is that they are reusable and can be used for a calendar of brand activations and promotional activities. Also, by using the visual merchandising ideas in retail for a number of activities will reduce the cost per activation, giving you a high Return on Investment
Changeable graphic
You can easily change the graphics of the visual merchandising Kits, giving it a different look at every activation or promotions. Go creative and innovative with the graphics of the visual merchandising display kits and replace them whenever you want to have a unique looking kit.