Understanding Temporary Staffing: A Comprehensive Guide
Temporary staffing has become a popular solution for businesses of all sizes and industries. It offers flexibility, cost-effectiveness, and a way to address short-term staffing needs efficiently. In this comprehensive guide, we will delve into the world of it, exploring its benefits, challenges, best practices, and more. Whether you're a business owner looking to optimize your workforce or a job seeker considering temporary employment, this article will provide valuable insights to help you navigate the world of it.
1. Introduction to Temporary Staffing
Temporary staffing, also known as contingent staffing, is a workforce management strategy that involves hiring employees on a temporary basis to fill specific roles within an organization. These roles can range from administrative and clerical positions to skilled professionals in various industries. It provides a flexible solution to address fluctuating workloads, seasonal demands, special projects, employee absences, and other short-term staffing needs.
2. Benefits of Temporary Staffing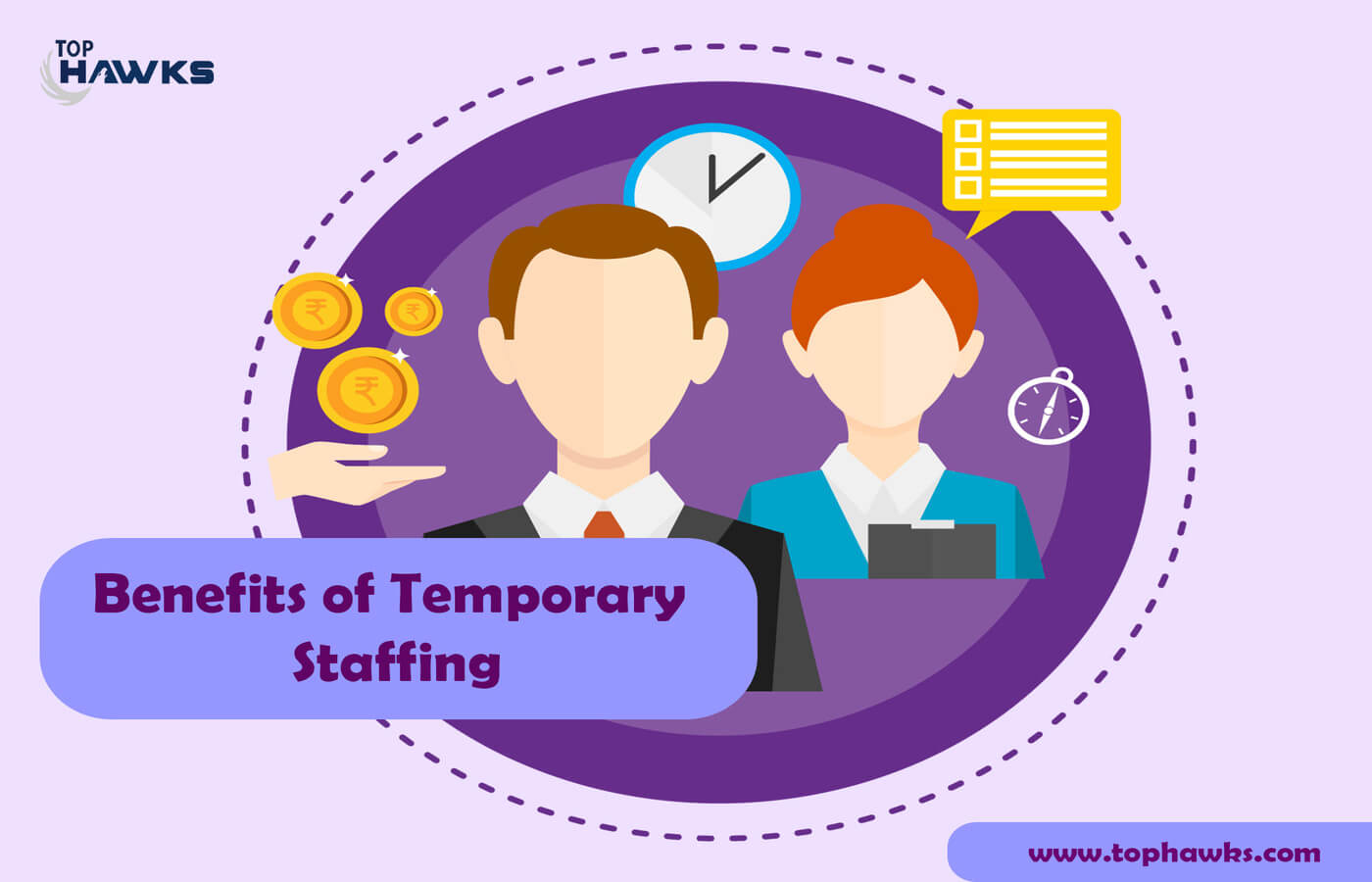 It offers several benefits for both employers and employees. For employers, it allows them to:
Quickly fill staffing gaps and respond to workload fluctuations.

Access specialized skills and expertise for specific projects.

Evaluate potential candidates for permanent positions.

Maintain productivity during employee absences.

Reduce recruitment and training costs.
On the other hand, it provides employees with:
Flexibility to choose assignments based on their preferences and availability.

Opportunities to gain diverse work experiences and develop new skills.

Exposure to different industries and company cultures.

Potential for future permanent employment.
3. Industries that Utilize Temporary Staffing
It is prevalent in a wide range of industries. Some of the industries that frequently utilize temporary staff include:
Manufacturing and logistics

Healthcare

Information technology

Hospitality and events
Customer service and call centers

Retail and e-commerce

Construction and engineering

Financial services
4. Types of Temporary Staffing Arrangements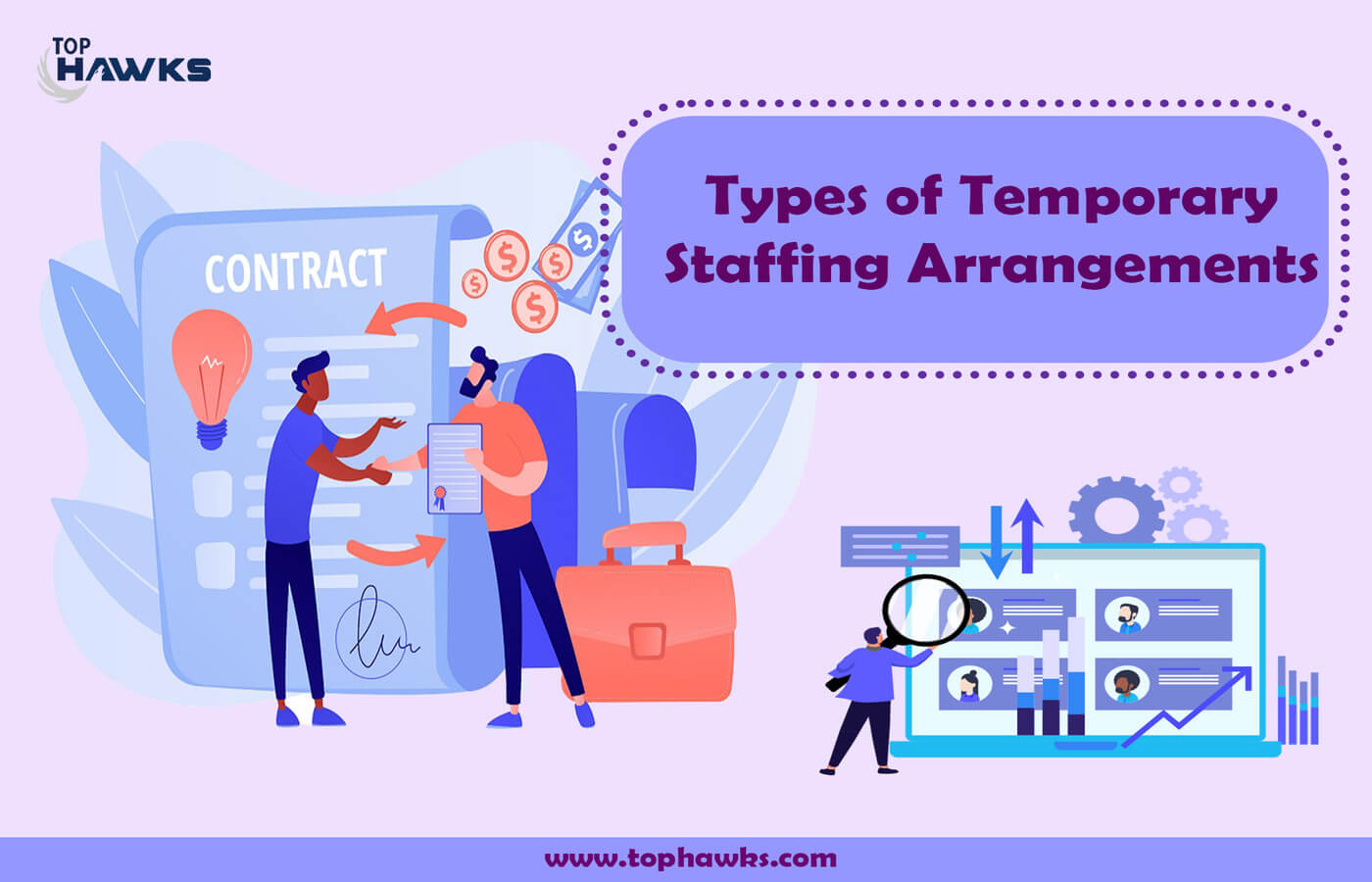 Its arrangements can vary based on the specific needs of an organization. Here are some common types of its arrangements:
Traditional Temporary Staffing:

Temporary employees are hired directly by the organization for a fixed duration or project.

Temp-to-Perm:

Employees are initially hired on a temporary basis with the potential to transition to a permanent position based on their performance and the organization's needs.

Seasonal Staffing:

Temporary workers are hired to meet seasonal demands, such as during the holiday season or peak production periods.

Contract Staffing:

Skilled professionals are engaged on a contract basis to complete specific projects or provide specialized services.
5. Temporary Staffing Agencies: How They Work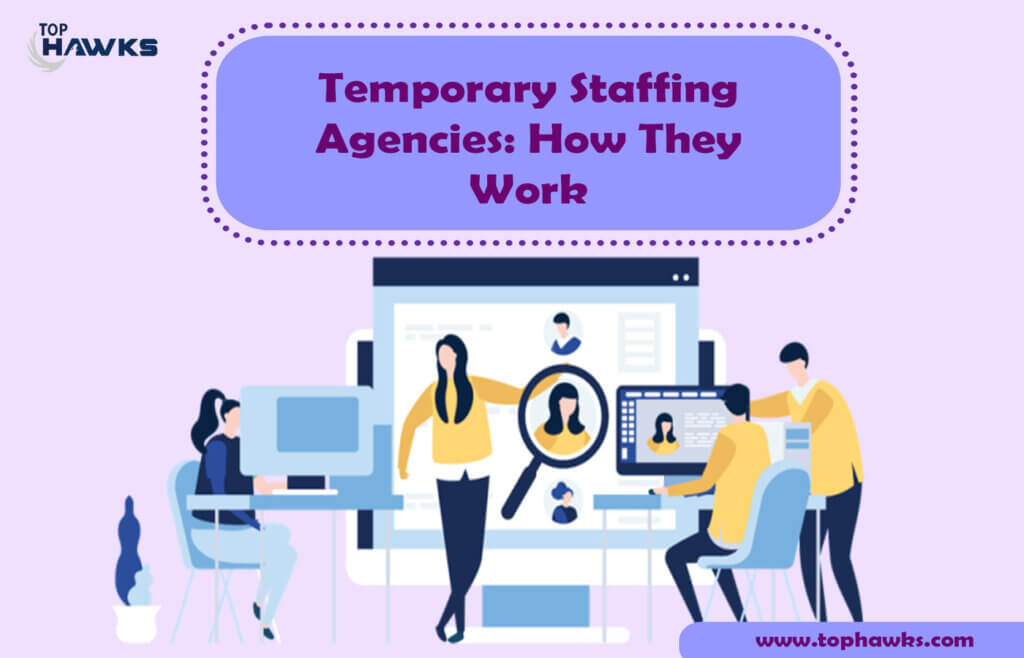 Their agencies play a crucial role in connecting businesses with temporary employees. These agencies maintain a pool of pre-screened candidates and match them with organizations based on their requirements. The agencies handle the recruitment, selection, onboarding, payroll, and administrative tasks associated with them. This partnership allows businesses to focus on their core operations while benefiting from access to a skilled and readily available workforce.
6. Pros and Cons of Temporary Staffing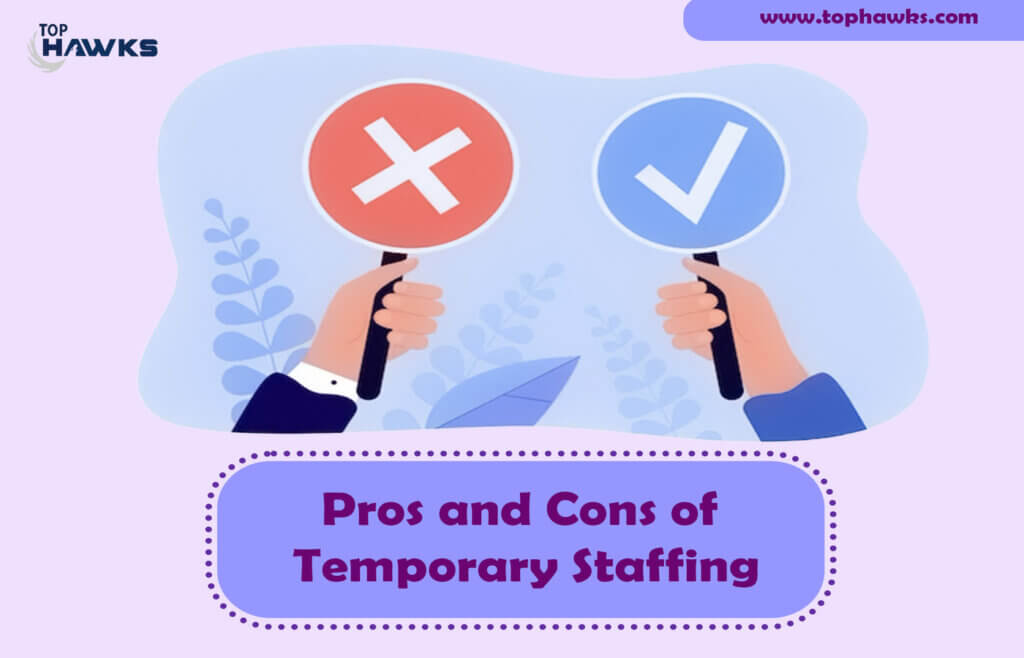 While it offers numerous advantages, it also has its share of pros and cons. Let's explore them in detail:
Pros:

Cost savings in recruitment, training, and benefits.

Flexibility in managing workforce needs.

Access to specialized skills and expertise.

Reduced administrative burden.

Increased agility in responding to market changes.

Cons:

Potential for decreased employee morale due to a transient workforce.

Challenges in maintaining consistent company culture and values.

Limited long-term commitment from temporary staff.

Potential knowledge loss when temporary staff leaves.
7. Best Practices for Hiring Temporary Staff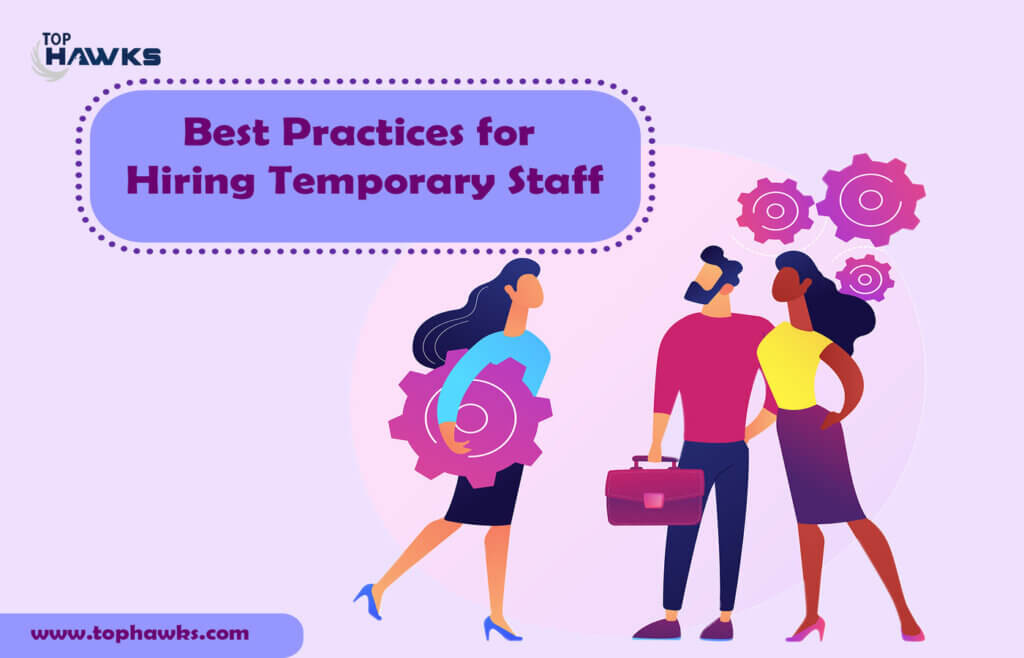 When hiring temporary staff, following best practices can ensure a smooth and successful process:
Clearly define the job requirements and expectations.

Partner with its reputable agencies.

Conduct thorough interviews and background checks.

Provide adequate onboarding and training.

Communicate expectations and integrate temporary staff into the team.

Regularly assess performance and provide feedback.

Evaluate potential for permanent employment when applicable.
8. Managing Temporary Staff: Tips and Strategies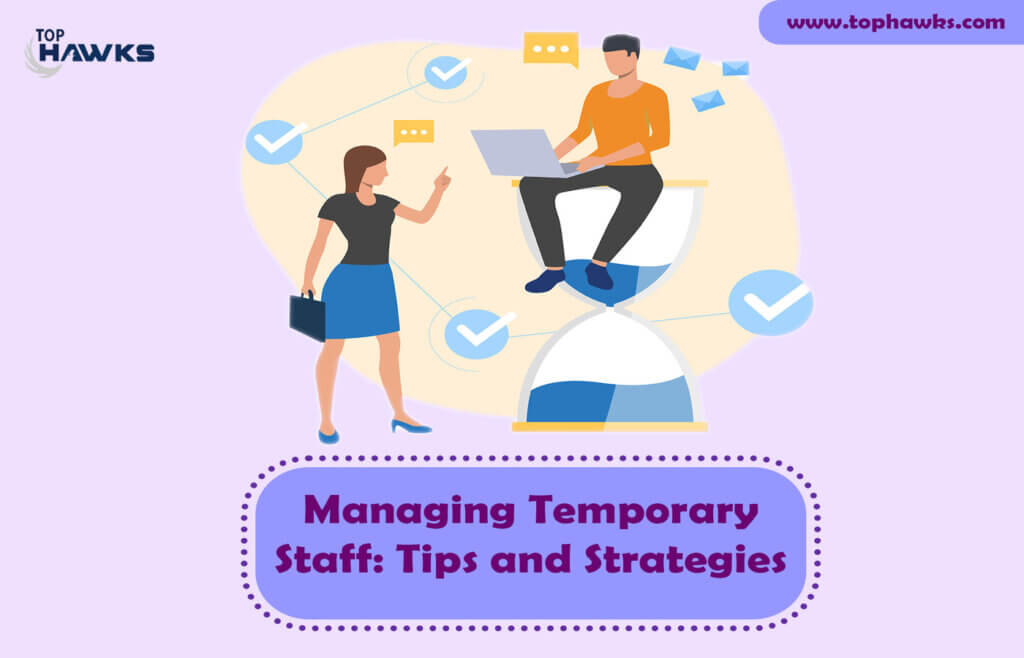 Effectively managing temporary staff is essential to maximize their contribution and integrate them into the existing workforce. Consider these tips and strategies:
Establish clear lines of communication.

Provide necessary resources and support.

Encourage teamwork and collaboration.

Offer recognition and rewards for achievements.

Promote a positive and inclusive work environment.

Foster professional development opportunities.
9. Compliance and Legal Considerations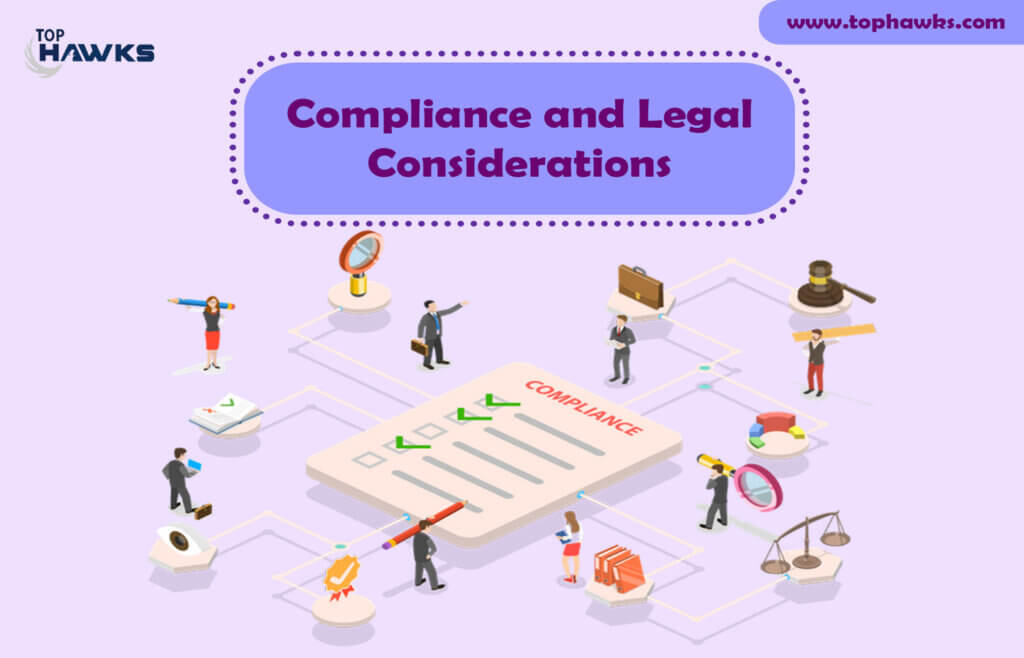 When engaging temporary staff, organizations must comply with applicable employment laws and regulations. Key considerations include:
Classification of temporary workers (employee vs. independent contractor).

Compliance with wage and hour laws.

Adherence to workplace safety standards.

Protection of temporary workers' rights.

Proper record-keeping and documentation.
10. Temporary Staffing vs. Permanent Staffing: Choosing the Right Approach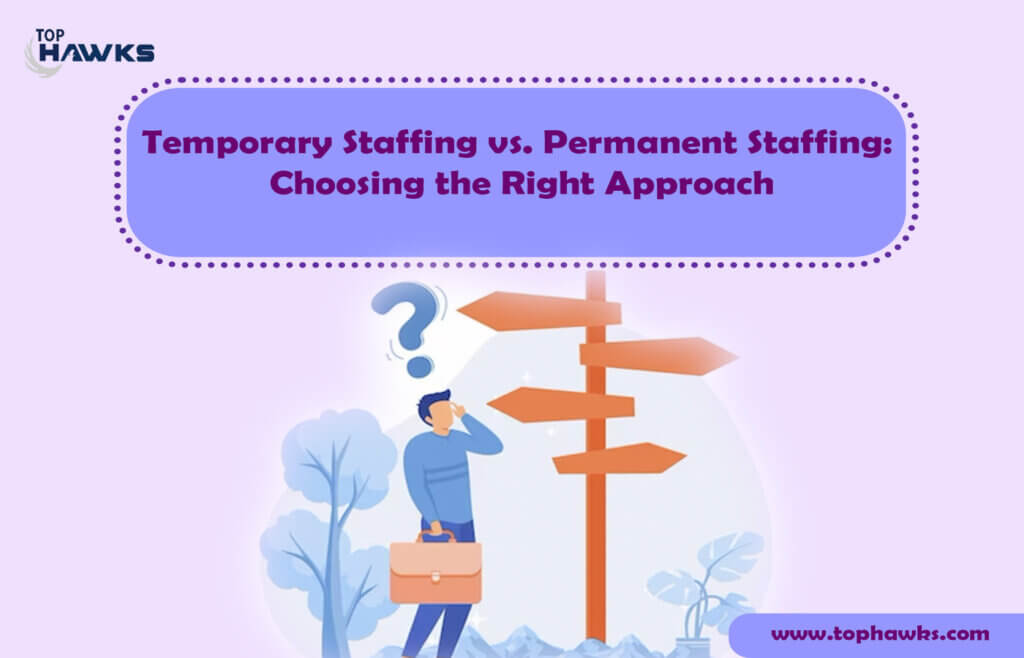 Determining whether to hire temporary or permanent staff depends on several factors. Consider the following when making a decision:
Duration and nature of the work.

Project-specific requirements.

Budget and cost considerations.

Talent availability and skills required.

Long-term growth and organizational goals.
11. Temporary Staffing Trends and Future Outlook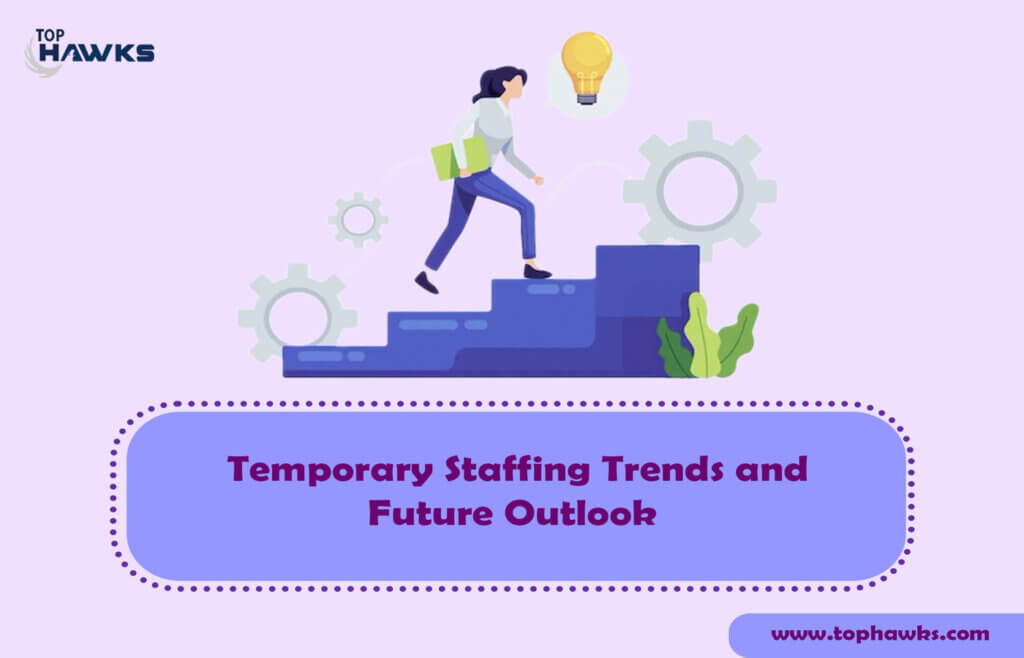 The staffing industry is evolving rapidly, influenced by various trends and factors. Some key trends include:
Increased demand for remote and flexible work arrangements.

Growing utilization of technology in sourcing and managing temporary staff.

Emphasis on diversity, equity, and inclusion in its practices.

Integration of artificial intelligence and automation in recruitment processes.

Shift towards a blended workforce model with a mix of permanent and temporary staff.
Looking ahead, the staffing industry is expected to continue growing as businesses seek agile workforce solutions and adapt to changing market dynamics.
12. Case Studies: Successful Implementation of Temporary Staffing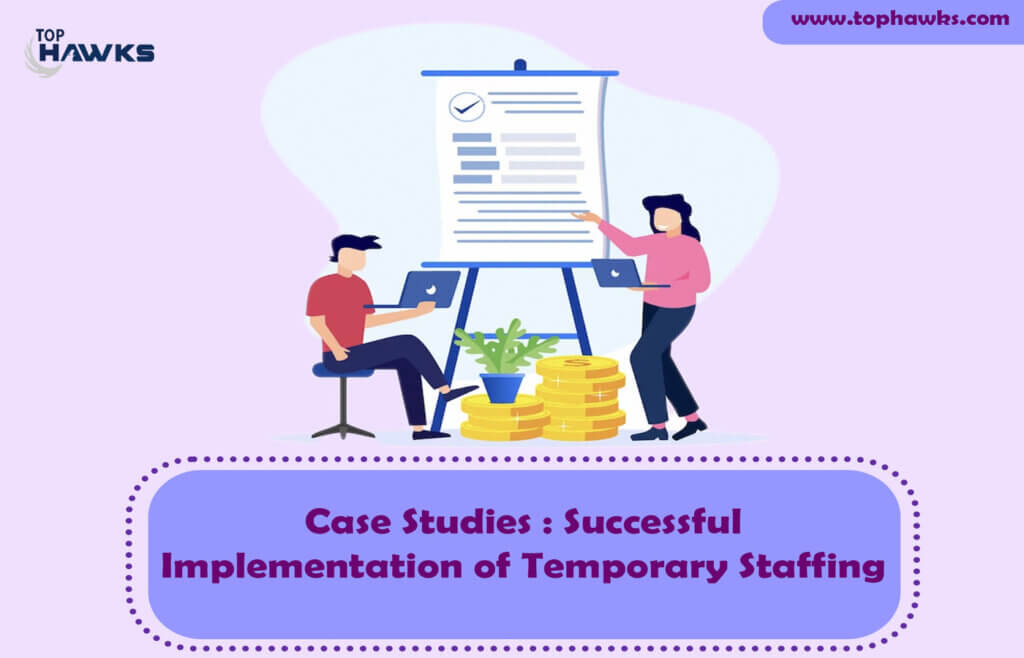 Examining real-world case studies can provide valuable insights into successful implementation. This section will highlight specific examples where businesses effectively utilized temporary staff to achieve their goals.
13. Temporary Staffing and Remote Work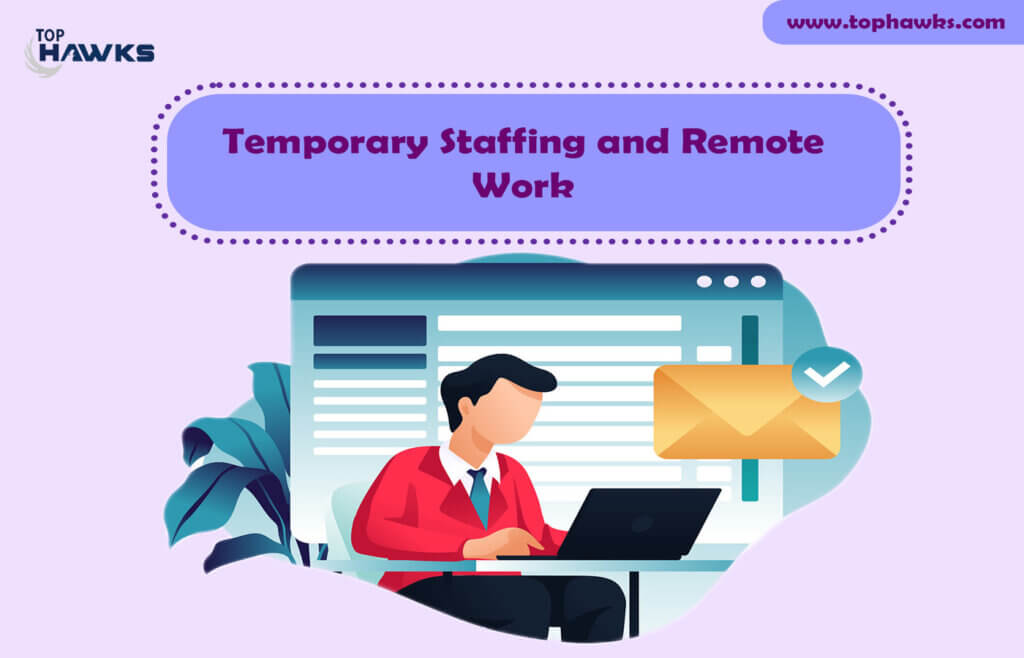 The rise of remote work has influenced its landscape. This section will explore the intersection between temporary staffing and remote work, discussing the benefits, challenges, and best practices for managing remote temporary staff.
14. Overcoming Challenges in Temporary Staffing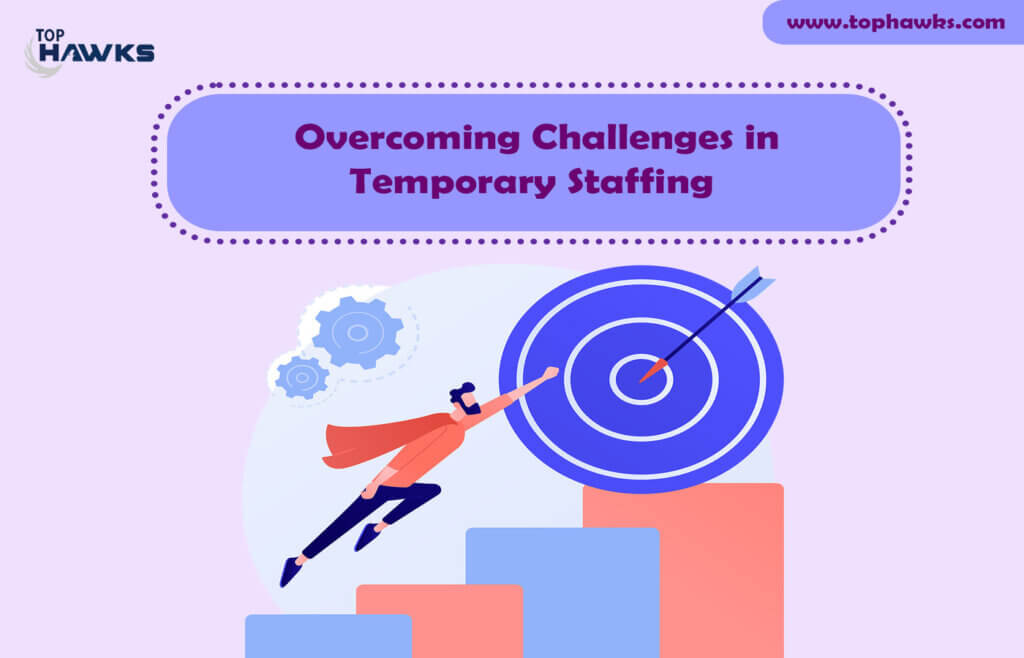 While it offers numerous benefits, it's not without challenges. This section will address common challenges faced by organizations in it and provide practical strategies for overcoming them.
15. Conclusion
It provides a flexible and efficient solution for businesses to address short-term staffing needs. By understanding the benefits, best practices, and considerations associated with it, organizations can optimize their workforce management strategies and achieve greater agility and cost-effectiveness.
16. Frequently Asked Questions(FAQs)
Can temporary staff become permanent employees?
Yes, temporary staff can become permanent employees in certain situations. If an employer is impressed with a temporary employee's performance and finds a long-term need for their skills, they may offer them a permanent position. However, this decision depends on various factors, including the company's policies and the employee's interest in transitioning to a permanent role.
How do I choose the right temporary staffing agency for my business?
When selecting a temporary staffing agency, consider the following factors:
Specialization in your industry

Reputation and experience of the agency

Quality of their candidate pool and screening process

Ability to meet your specific staffing needs
Rates and terms of service
It's beneficial to conduct thorough research, read reviews, and even seek recommendations from other businesses in your industry before making a decision.
Are temporary staff eligible for employee benefits?
The eligibility for employee benefits may vary depending on the specific circumstances and local employment laws. In some cases, temporary staff may be eligible for certain benefits, such as health insurance or retirement plans, especially if they work for an extended period or meet specific criteria. However, it's important to consult with legal and HR professionals to ensure compliance with applicable regulations.
What are the typical costs associated with temporary staffing?
The costs associated with temporary staffing include:
Hourly or daily rates paid to the temporary staff, which may vary based on skill level and experience.

Administrative fees charged by the staffing agency for their services.

Onboarding and training costs, if applicable.
Costs related to compliance with employment laws and regulations.
It's essential to factor in these costs when budgeting for temporary staffing and to have a clear understanding of the financial implications.
How can I ensure a smooth transition when temporary staff leave?
To ensure a smooth transition when temporary staff leave, consider the following steps:
Maintain open lines of communication throughout the temporary staff's tenure.

Document and transfer relevant knowledge and information to permanent employees.

Conduct exit interviews to gather feedback and insights.
Express appreciation for the temporary staff's contributions.
By implementing these measures, you can minimize disruptions and facilitate a seamless transition when temporary staff members complete their assignments.
We are here for you, and we are wearing our thinking caps