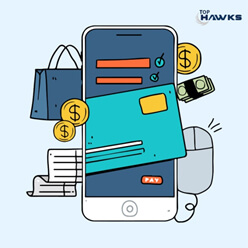 Let us understand what exactly is  "VISUAL MERCHANDISING". Anyone who has ever walked into a retail store has seen visual merchandising at work. Visual merchandising is a marketing practice that uses floor plans, colour, lighting, displays, technology, and other elements to attract customer attention. Its ultimate purpose is to use the retail space to generate more sales.
Dragging you all back to the same page, here arises a question about "VIRTUAL MERCHANDISER"?  Now we have a great answer for this stating that, "A visual merchandiser is the person behind the magic". They combine marketing principles, retail merchandising knowledge, and creativity to use the space and layout of the store to present the store's inventory in a positive way.
VIRTUAL MERCHANDISING DISPLAYS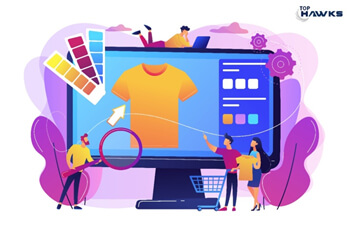 Always remember People have Five Senses, not just one. Revealing the 5 senses which influence the display of Virtual Merchandising are :-  Sight, Sound, Touch, Smell and Taste. Especially most of the visual merchandiser practise, "THE RULE OF THREE" rule which is explained in detail below.
THE RULE OF THREE
In creating displays, most visual merchandisers will often refer to the rule of three, which means that when creating a product display, try to work in sets of three. Based on how you're arranging your products, you'll want to have three of them side by side instead of just one. For example, if you were arranging things by height, you'd have items that were short, medium, and tall. Our eyes are most likely to keep moving when we're looking at something asymmetrical because when we see some symmetrical or balanced. The Rule of Three will keep your customers' attention longer on your product displays. This also alludes to the "Pyramid Principle," where if you have one item at the top, and all other items "one step down," it forces the eye to look at the focal point and then work it's way down.
VISUAL MERCHANDISNG IN RETAIL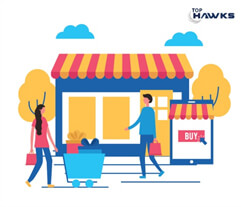 Visual merchandising is a crucial retail strategy that maximises the aesthetics of a product with the intent to increase and maximise sales. The most important function is to draw customers into the shop and close the sale, which is all dependent on the aesthetic quality of your retail display.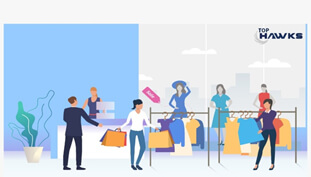 FOUR ELEMENTS OF VISUAL MERCHANDISING
STORE EXTERIOR

STORE INTETRIOR

INTERIOR DISPLAY
DISPLAY MERCHANDISING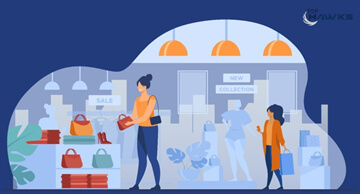 Merchandise displays are special presentations of store's products used to attract and entice the buying public. The nature of this displays may vary somewhat from industry to industry.
7 TIPS FOR DISPLAY MERCHANDISING
Ignite the imagination with product grouping

Engage with all Senses

Support with Signage

Create Hierarchy

Make your Store Instagram -Ready

Refresh Displays and Layouts

Communicate Layout
VISUAL MERCHANDISING COMPANIES
In the earlier twentieth century, as retail business started to grow, it became important for establishments to have a visual display of goods in order to attract customers. The store's windows were usually used to creatively display the merchandise. As years passed artistic window displays made a part of the overall design of the store. In the later years artists like Salvador Dali and Andy Warhol created window displays. This art eventually developed and took form of Visual Merchandising.
DIGITAL VISUAL MERCHANDISING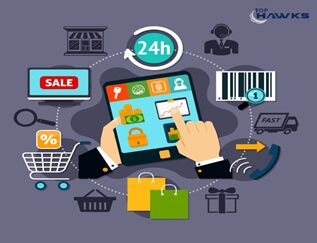 In early 2017, Amazon launched a high-profile marketing campaign for its home assistant system Echo. According to its hundred-video-long advertising series, Amazon Alexa Moments, Echo allows users to ask home assistant Alexa a variety of things, from "Alexa, play 'My Girl'" to "Alexa, what time is it?" But crucially for retailers—and perhaps unsurprisingly, considering Amazon's  e-commercial origins— many of the videos show Echo users asking Alexa to order products off the internet for home delivery.
Digital visual merchandising brings a new way of interacting with your audience through in-store display, mixing modern techniques with the core skills and values of Visual Merchandising. A digital visual merchandising scheme can increase footfall and encourage 'shareable moments' on Social Media.

One further benefit of digital visual merchandising is its versatility; rather than having to stick to the same display throughout a campaign or season, the elements of a digital merchandising campaign can be revised seasonally in line with your latest marketing campaign.

Digital visual merchandising brings new life into window displays, incorporating techniques such as Augmented Reality or QR codes to provide an interactive experience for a store's target audience.

An example project, handled by our sister company FormRoom, is the H&M Capsule Conscious Lounge at Oxford Circus. The lounge featured an interactive selfie booth with a variety of angular mirrors, as well as a touch screen from which shoppers could read information about H&M's Conscious Collection and pick out their favourite outfits.
CONCLUSION
Visual Merchandising is very important because the first impression of the product or store on the customer is by visualizing. If the impression is positive then customers attract to the store. A store must have the inviting appearance to the customers. Objective of visual merchandise is to attract the customers to your business in order to sell the merchandise. The main objective is to make the customers feel comfortable and eager to satisfy their shopping fantasies with great curiosity.
Get in Touch
We are here for you, and we are wearing our thinking caps