TOP 5 BRAND ACTIVATION COMPANIES IN INDIA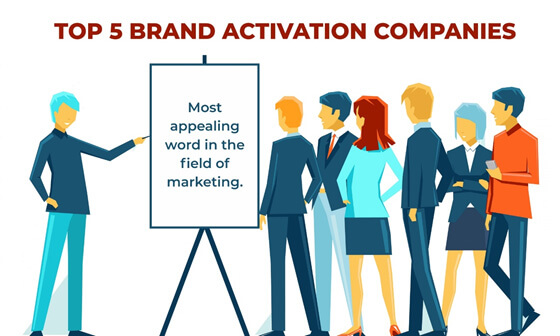 BRAND ACTIVATION: The most appealing word in the field of marketing. Interesting right! Let's see dive deep into Brand Activation companies
It's a process of building awareness regarding the product of a company by engaging directly with the target audience or consumer, giving the consumer a real-time experience of the product with the intention of creating a unique bond or connection between the consumer and the brand.
Why Brand activations?? Is it really that valuable?
Yes, Brand needs to be activated in the minds of the consumer, without activation the brand will remain just as a concept.
The brand Activation companies joggles your brand to life helps in gathering a new audience and redefines how your existing audience appraises you.
About 98% of people will be more willing to purchase a particular brand's product after attending an activation.
Types of brand activation:-
There are many strategies for accomplishing a consumer brand activation campaign and among them, the most popular types are given below:
1. Experiential events:
This strategy is the most favoured type of brand activation and is used by global brands. At its core, it creates a meaningful connection between a brand and its customers.
By providing an enticing experience this type of marketing will be able to create an impression in their customer's mind that would be more persistent than any other advertisement.
For brands, especially small businesses, experiential marketing is a golden opportunity to increase customer loyalty and direct sales.
This increases their brand awareness and exposure, either by turning their audience into brand ambassadors or encouraging participants to share their experiences within their networks.
2. Digital Promotions campaign:
A digital marketing campaign involves the execution of a marketing strategy across all the digital channels where consumers engage with a brand, usually for the purpose of improving a company's conversion rate. It is effective, less expensive, and engages with customer behaviour in real-time.
3. Promotional marketing:
It's the use of any special offer intended to raise a customer's interest in a particular product and influences them to purchase the brand.
Promotional materials exist as a part of direct marketing like mail or email materials that include coupons. Digital rewards are becoming more popular as consumers prefer mobile interactions over other channels.
Its purpose is to inspire potential customers to take action. Some examples are Society activations, mall activations, Roadshows, etc.
TOP 5 BRAND ACTIVATION COMPANIES IN INDIA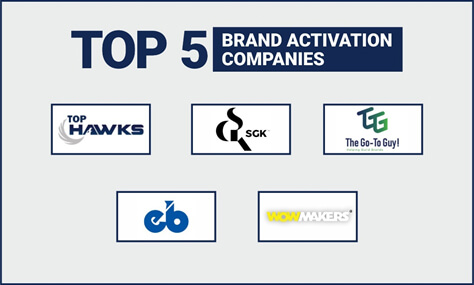 Everything we do involves selling or creating a better ecosystem for sales. We provide branding, business consulting, and CRM consulting services. We have a unique relationship with each of our clients, but each was set in motion simply – with a conversation.
Keeping the benefits of advertisers in mind, we have mapped mediums with parameters like income group, locations, footfalls, etc. These parameters help in narrowing down and focusing on the target audience. We help the brand to get real-time feedback from their customers through our Experiential Marketing Solutions.
We cover the following mediums: Residential Societies: 10000+, Corporate Parks: 3000+, Gyms: 5000+, Retail Stores & QSRs: 5000+, Retail Branding, Cab Branding, Petrol Pump Activation (Permission direct from IOCL, HPCL & BPCL), Schools & College Activation etc.
They are a part of Jagran Prakashan Ltd. They offer end to end experiential marketing solutions using an integrated approach involving: on-ground, events, digital, P.R., print, radio, mobile, outdoor, consumer-generated media, word of mouth & so on. They offer duplication free, relevant, scalable & sustainable brand experiences.
Wings offer strategic counsel based on rock-solid judgment and extensive on-ground experience to help companies and brands engage key audiences and customers. It offers Corporate Activities, Roadshows, Family Melas, Sandwich Men, Mall Activities, Paper Inserts, Apartment and RWA, School and College Programs, Petrol Pump Activities, Pub Activities, In-Store Activities, Lead Generators, Sampling Activities.
WowMakers, one of the brand activation companies is a video production and branding company that was founded in 2012. The company is headquartered in Kerala, India. They specialize in UX/UI design, web development, and mobile app development.
The Go-To Guy! is a branding company based in Hyderabad, India. Founded in 2015, the 21-person team works with small businesses in the IT, hospitality, and health care industries. They provide branding, marketing strategy, and social media marketing services.
CONCLUSION
Brand activation is the next leap of marketing which is more focused on experiences rather than the brand's products and services. Brands need brand activation because traditional advertising is becoming ineffective with the new generations like millennial and the new generation Z, who do not trust the traditional methods of marketing any more. With a successful brand activation strategy, brands can create a more immersive and impressive impression in the minds of the consumer leading to higher revenue.
Get in Touch
We are here for you, and we are wearing our thinking caps