TOP 5 DATA COLLECTION COMPANIES IN INDIA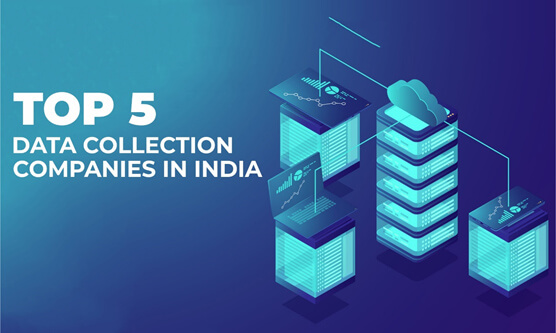 WHAT DATA COLLECTION IS ACTUALLY ALL ABOUT ???
Data collection is the process of gathering and measuring information on variables of interest, in an established systematic fashion that enables one to answer stated research questions, test hypotheses, and evaluate outcomes and which also enables one to answer relevant questions and evaluate outcomes. Data collection enables a person or organization to answer relevant questions, evaluate outcomes and make predictions about future probabilities and trends. For example, in retail sales, data might be collected from mobile applications, website visits, loyalty programs, and online surveys to learn more about customers.
Data collection can be classified into two, namely: primary and secondary data. Primary data are raw data i.e. fresh and are collected for the first time. Secondary data, on the other hand, are data that were previously collected and tested. Data can be collected for the future or to make strategic decisions. These can be provided through various global organizations and they are collected from clients, vendors, suppliers, customers, etc. This article involves data collection companies in India.
How will data be collected?
There are basically 7 ways for data collection which can be explained as follows:
Surveys are one way in which you can directly ask customers for information.

Online Tracking.

Transactional Data.

Online Marketing Analytics.

Social Media Monitoring.

Collecting Subscription and Registration Data.

In-Store Traffic Monitoring.
NOW LET'S DISCUSS ABOUT TOP 5 DATA COLLECTION COMPANIES IN INDIA
Tophawks is India's #1 Data collection services provider company. We provide outsourced, end to end managed data gathering and processing service. On a global level, we provide data gathering and filtration services in 4 continents across the world. TopHawks is always ahead of the curve when it comes to technology development and passing those innovations along to our clients. We are committed to our leadership position in the industry and to remain on the cutting edge of technological advances. We Outsource the Best data collection services in India to get an accurate collection of required data. Top Hawks is one of the best data collection companies.
India based Impetus Research is a full-time marketing and analytics-based company. They offer services such as survey programming and hosting, data analytics, and research- basically, all the services offered by data collection companies in India with the added advantage of their impeccable repute as well as years of expertise. They act as market research consultants to help guide you through each project that a business undertakes to ensure that their clients function with all the pertinent information. Their USP is their ability to respond to clients quickly and efficiently in helping with brand estimation, branding, pricing, etc.
At the core of the solutions offered at SOLUGO, they simply focus on the three important components -People, Data & Quality, that empower their clients with the most sought out real insights. Their solutions are backed up by authentic and relevant data acquired from a diverse and balanced panel pool, with a special focus on sampling & solutions that help clients connect with their target audience and collect valuable and sought after data that further helps them devise a business strategy and make the right decisions Or call to action.
Asplor Research private limited is a Full-Service market research agency that specializes in India, Southeast Asia, Middle East, and Africa. They do multicultural, multi-language, and multi-domain research for our clients within budget. Asplor Research is a full-service Market Research company focus on delivering market Research and panel solutions to clients requiring unbiased strategic information. Established in 2015 with a goal to deliver groundbreaking data and insights to clients. Headquartered in New Delhi.
Headquartered in Ahmedabad, INDIA. Azure provides data collection services such as MR Data Collection/Fieldwork, Programming, and Data Processing/Tabulation Services with over 3000 people across India, China, and the US. Azure's experience in providing MR services spans more than 8 years and over 2000 projects. Azure is a vendor for Primary/Secondary DataCollection/Fieldwork, CATI/CAWI Programming, and Data Processing/Tabulations to leading MR companies across the globe.
CONCLUSION
Data Collection means putting your design for collecting information into operation. You've decided how you're going to get information – whether by direct observation, interviews, surveys, experiments, and testing, or other methods. It is through data collection that a business or management has the quality information they need to make informed decisions from further analysis, study, and research. Without data collection, companies would stumble around in the dark using outdated methods to make their decisions. From the given information we know about what are primary data and secondary data and how to collect those data from various resources. Research must be a valuable one so data collection must be done enormously to predict the correct result of the analysis. Secondary data can be added in research reports but there must be some data that show your involvement in the research process. Research is an endless process because as time changes strategy of reports containing details also varies due to respondents are not same in nature. Research about a topic gives an overview, detail, and explanation according to research types. At last collection of data are most important for research because it acts as proof or evidence of your valuable reports.
Get in Touch
We are here for you, and we are wearing our thinking caps