Top 5 things to keep in mind while selecting an on-demand workforce solution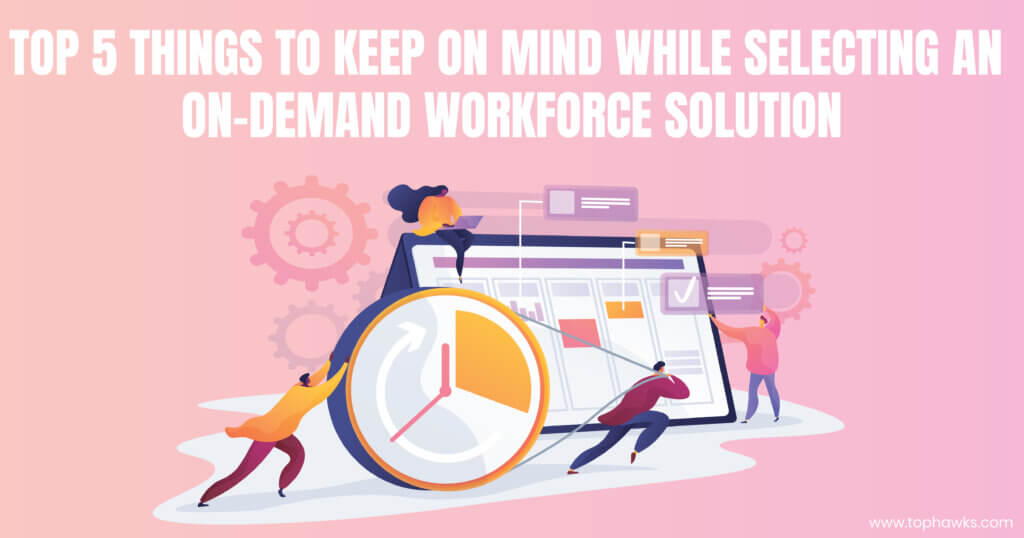 In this article, we will talk about the on-demand workforce solution. The on-demand workforce is a new trend and revolution in the economy.
Companies should know proper measures to select an on-demand workforce.
We will tell you some tips for that.
Let us begin this article with an introduction to the on-demand workforce.
On-demand workforce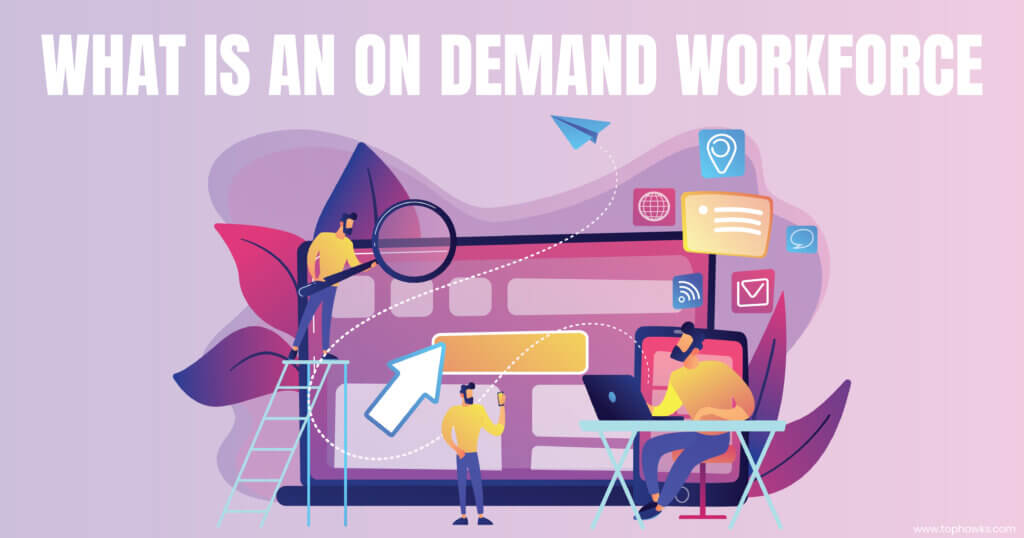 The on-demand workforce is workers that companies can hire on-demand or when they need them. The on-demand workers are also known as the contingent workforce.
These workforces can be individual contractual workforce or freelancers.These workforces are hired for a limited time only, or you can say till the contract.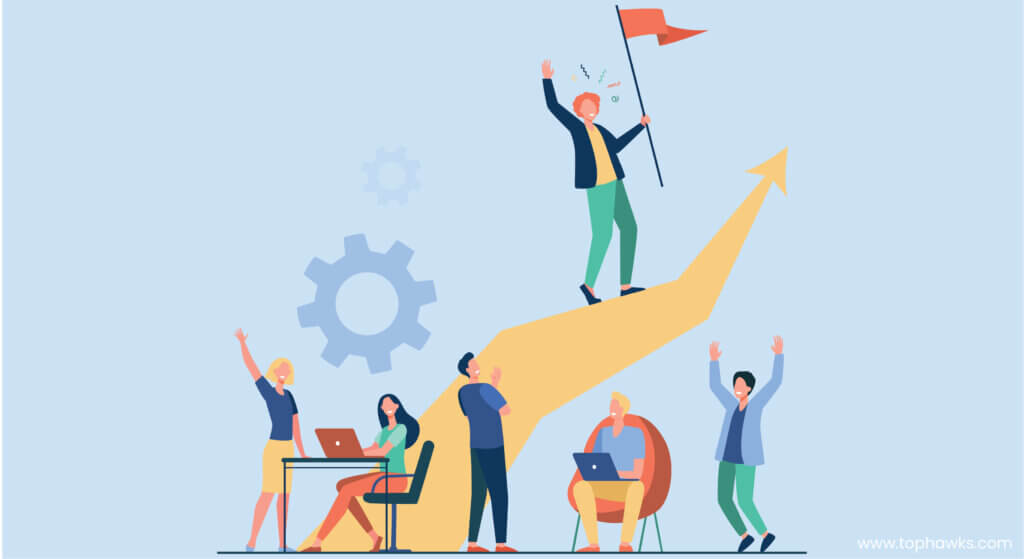 The on-demand workforce is beneficial for the company as well as for that workforce also. Both companies and workers get flexibility in their work. Workers can work more when they need more money.
Workers can explore different industries to get new experiences. This will help enhance their skills and knowledge.
The companies can save their cost. Companies can hire employees when they need them.They don't have to pay them any perquisites and retirement benefits.
They can also get a wide set of skills.On-demand workers are easy to find and reduce headcount as well.
Tips for selecting effective on-demand workforce-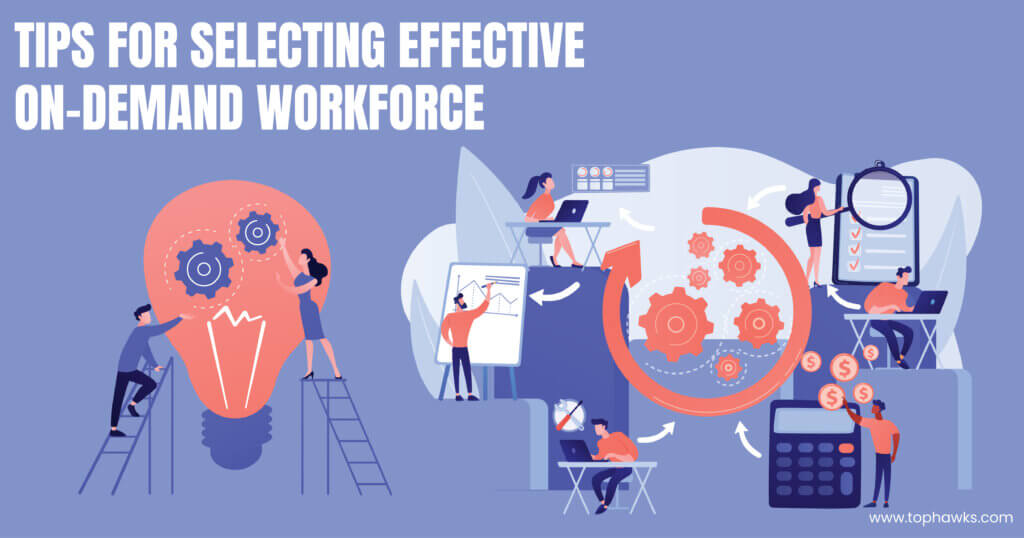 Now, you should know how to select proper workers for your company. You cannot pick any random guy for work.
You have to remember some important points in mind while selecting an on-demand workforce.The following are some qualities to look for in an on-demand worker-
Skill and interest

This is the first and basic thing that you should look for in a worker. The worker should have appropriate skills for the work or project of your company. They should also have problem-solving skills. So, they can easily recognize any issue and resolve it. He should have proper communication and time management skills as well.

The worker should have an interest in your company and work. You should check whether they are genuinely interested in working with your company or not. The worker you want to hire should be motivated and have a desire to work. He should be optimistic. You can check all these things with their enthusiast level.

Proper interview and tests

The on-demand worker is working for a short time. It doesn't mean you cannot take their interview or test. You should organize a proper interview of the candidates. The type of interview depends on the work and your company's prospectus. You can take an interview as per your relevancy. You should also conduct appropriate tests to check their skills.

There are various tests like trade tests, skill tests, and many more. This will help you to know the knowledge and potential of the worker. You can also hire and ask the contractor to do the same for you. You have to pay a minimal fee to them. They will hire on-demand workers easily for you.

Reliable and adaptable

You should also keep these qualities in mind for hiring an on-demand worker for your company. When you work with someone, you have to share confidential information with them.

Sometimes the leaking of such information can harm your company. So, you need to check that the on-demand worker is reliable.

The worker should be reliable and don't leak your company's information to others. He should be adaptable as well. It means they should be flexible to adapt to any change quickly.

They should adapt to new things without any resistance. As technology is changing rapidly, they should keep themselves up to date. This will be beneficial for your company. This is because any problem in the short-term projects can make a loss to your company.

Ability to work independently

It means the on-demand worker should be appropriate enough to work together. He should not need everything in detail. After all, you are hiring an expert or skilled person. And if you still have to give him each detail, he will not be worth hiring.

They should have the proper skills to work alone with confidence. Then only you can rely on them and give them work for your company. Even so, you should help them if they need it. But an independent and self-confident worker will do your work properly. So, before selecting any on-demand worker, you can check their experience and past work.

Team-oriented and hardworking

The employee should have the ability to work in a team with unity. He should have the capacity to work with the team. He should be hardworking and result-oriented as well.

He should work to achieve companies' goals. He should work enough to complete your project within time and give the best possible result to your company.
Conclusion:
These are some things to keep in mind before selecting an on-demand workforce for your company. Although, on-demand workers work for a temporary period in your company. But, still, I need to pay proper attention to selecting them.
You cannot pick any random person and give him/her a contract. You should take the proper interview of these workers. Ask for their background and references as well. You should also take steps to retain talented workers.
It means to try to maintain good terms with that so you can work with them again. In case you need them again, you can contact them easily. All in all, an on-demand workforce is beneficial for your company for data collection activities.
It will save your cost, give access to new talent, and many more. That's why you should pay proper attention while selecting an on-demand workforce.
You can directly contact any on-demand workers. Nowadays, many companies work as a mediator between companies and workers. You can give them a contract to hire employees for you.
I hope this article is beneficial for you all. You will get enough information from this post.
Thank you.
Get in Touch
We are here for you, and we are wearing our thinking caps