How covid-19 has transformed the gig economy companies in India?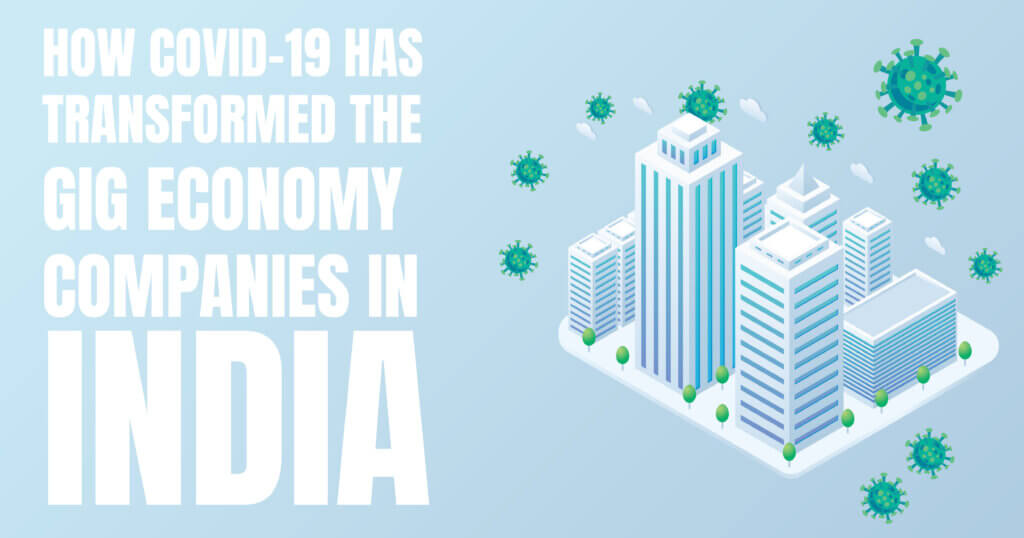 The new normal.
The pandemic has permanently changed the face of the job market across the globe.
With remote working becoming the norm across many industries, many professionals and companies are appreciating the benefits of this form of work and seeing it turn into a global trend.
The newfound interest in gig workers comes after the immediate crisis companies have had to face during the Covid-19 pandemic, freelance professionals have truly helped tide over the messy situation.
Indian businesses have preferred full-time employees for the majority of positions and rely on external consultants and freelancers only for a small number of activities such as specialized legal aid and other short-term projects.
This traditional model has started to shift as we move into the gig trend.
The gig economy used to comprise blue-collar workers in the food delivery (think Zomato) and vehicle for hire (think ola cabs) and now we are seeing white-collar professionals such as management consultants, architects, software engineers, graphic designers, accountants, and many other types of workers join the gig economy.
The banking financial services and insurance (BFSI) sector has 32 percent of its employees working as freelance and the number is expected to grow to 52 percent whereas the FMCG-pharma sector plans to increase its gig workforce from 15 percent to 69 percent over the coming five years, increasing demand for online education will also encourage professionals to take up coaching gigs.
Why both companies and professionals should adopt the gig economy model?
Due to the flexibility of time and work, gig workers can pursue higher education or learn new skills.
Because income varies from client to client, gig workers can sometimes make more than full-time employees.
The freedom and flexibility also allow them to decide the price, time, and place of their projects.
They also have the option of finding a variety of jobs and being at their creative best as every project could be different.
The flexibility it provides, both in terms of working hours and the sorts of tasks people may take on, is one of the major advantages of the gig economy.
In fact, prior to the pandemic, about 70% of gig workers said they chose to work in the gig economy because it offered more flexibility and, in some cases, more pay than full-time employment.
While this flexibility has always been tempting, it is probable that many full-time employees have been forced to enter the gig economy out of need since the commencement of COVID-19.
Persons with more control over their schedules and flexibility in choosing their employment are substantially happier with their work than their counterparts who hold conventional paid positions.
In the coming years, we will see the majority of people making a conscious decision to participate in the gig economy. As corporations increasingly realize in the post-Covid world, one of the primary benefits of hopping on the gig economy bandwagon is that the entire globe becomes a prospective employer's talent pool. Companies may thus save money on pricey real estate, staff training, and upskilling, as well as the high costs of high employee turnover, a gig model of hiring can help the company ramp up and down its workforce on demand.
Companies might favor online workers hired through platforms to cut costs.
Companies that have so far neglected their digital presence have started to realize that their portfolio has a huge void and are expected to close the gap with gig workers to compete in the industry.
Why freelancing is the future of work?
COVID 19 has had a significant impact on the job market, with all major economies in recession or slowing.
We are seeing unemployment rates shoot up as employees are getting laid off and management is taking over 50% salary cuts, on the other hand, gig work is witnessing an upsurge in job options.
During a recession, demand for gigs usually increases. COVID-19 has amplified the opportunities the gig economy has to offer, especially now that remote work is socially acceptable.
From a demand point of view, analysts expected the COVID-19 pandemic to have a positive effect on the demand-side for online gigs. The gig economy will continue to be relevant due to global influences.
Individuals and companies cannot afford to overlook the freelancing workforce if they want to adopt proactive tactics to combat the global competition.
In reality, the gig economy has gained enough traction on a global scale to become a key factor in the not-too-distant future.
Conclusion:
As a result, the pandemic is expected to accelerate the growth of the developing gig economy, in which more and more individuals work as freelancers.
This type of work will become more and more mainstream as part-time occupations gain social acceptability.
Get in Touch
We are here for you, and we are wearing our thinking caps