TOP 7 GIG ECONOMY COMPANIES IN INDIA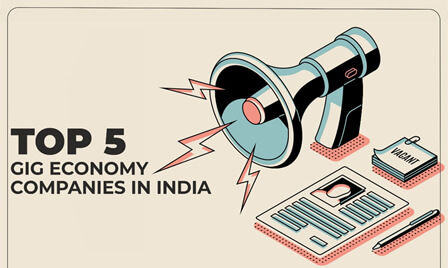 The term "Gig" means a job for a specified period of time and was typically used in referring to musicians. In 2021, Gig Economy companies in India has taken an entirely new shape. Post-Covid, companies have understood the benefits of gig workers and tend to hire third-party managed workforces rather than full-time employees.
But, the question arises, why?
The flexibility a gig workforce provides the employer is immense. Rapid expansion, coverage, and seasonal requirements become child's play. Focussed and specifically skilled resources add the topping to the cake.
A gig economy undermines the traditional economy of full-time workers who rarely change positions and instead focus on lifetime careers. This might be useful for the long term but not for rapid expansions and growth.
GIG ECONOMY BENEFITS
Almost three in five (58 per cent) stated that they believed the gig economy provided "flexibility for workers", while more than a third (34 per cent) said that gig economy work provided "new opportunities" for workers and was "time efficient" (28 per cent).
Availability of high-demand and specialized skill sets.

A cost-effective pricing strategy.

Greater recruitment flexibility.

Greater flexibility to both employees and employers
Get in Touch
We are here for you, and we are wearing our thinking caps